The scope of services offered by Itsang is unique due to its multi-disciplinary nature. For his clients, Itsang is a name that stands out due to the peace of mind that accompanies each project. "Itsang does it all," "Why don't you just ask Itsang?" are phrases that are often heard through the client grapevine.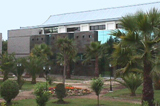 Rome wasn't built in a day. Neither was the prestige in Itsang's name. This name now means much more than architecture, much more than construction, much more than advisory and management of real-estate transactions, much more than institutional and private property appraisals, much more than commercial and industrial strategic advisory.
Unlike the services offered by other firms, Itsang offers his clients full-scope coverage of all aspects of a project. When clients begin a relationship with Itsang, they can rest assured that they have the best expertise, experience and reliability available to them. For example, in a specific project, a client comes in and asks: "I have a piece of property available, what's the best thing I can do with it?" And from there, a stream of ideas arise and germinate into project evaluation, project management, city permit application, construction, business license application, etc. And in many other instances, they are applied to sales and advertising strategies, product catalog design, personnel hiring, business image crafting, etc. The truth is, clients often are amazed at the scope of services offered by Itsang... Services they never before thought possible to find in an... architect?!